Attention volleyball players and parents (grades 7 through 12). practice will begin on Monday the 15 from 4:00-6:30. Tuesday, they will practice from 2:30 to 4. Once school begins, practice will be right after from 4:30 to 6.
Reminder to parents of 6th, 7th, and 8th grade students. There will be a meeting tonight at the school at 6:00 p.m. We will be discussing the expectations of upcoming year in middle school. We look forward to seeing youall.

The August school board meeting has been moved to Monday, August 8th at 7:00 p.m.

The office will be closed on August 15th; however, we will still be answering the phone. Sorry for any inconveniences this may cause.

Alexander Public School would like to invite all families to our back to school night on Tuesday, August 16th from 4:30 - 6:30 pm. Students will be able to meet their teachers, drop off school supplies, and enjoy dinner provided by the school. We hope to see you there.
Alexander Public School is in need of an advisor for drama. Any interested parties should contact Terille Jacobson.

There will not be 7-12 boys basketball open gym tomorrow, August 3rd.

Hey everyone: Junior High and Varsity Practice will start Aug 4th at 6 pm and go till 8pm Players will need physicals, cleats, mouth guards, shorts, shirt. For the first few days. I think there will also be concussion testing before practice starting at 5pm for all 7th - 9th, 11th graders and all new to football. Thank you
Update The new gym will be closed until Aug 17th. You will still be able to utilized the old gym during this time. Sorry for the inconvenience
The Federal Government will no longer be paying for our breakfast and lunch meals this school year. Our prices will be, $2.00 for breakfast and $3.00 for lunch for PreK-12. Free and Reduced lunch forms will be available during registration. We encourage everyone to fill out an application, as it directly linked to our federal funding and school grants.

There was an incident involving predatory behavior yesterday within Alexander city limits. Make sure to stay in groups when children are out, have adult supervision and do not talk to strangers. The incident was reported the the McKenzie County Sheriff's Office and there is no active threat at this time.

Football practice will begin on August 4th. Just a reminder, all athletes must have an updated physical before participating. Sanford Health will conduct physicals for Alexander athletes on July 28th in Watford City. Physicals are $50 and must be paid by debit or credit card. Spots are limited.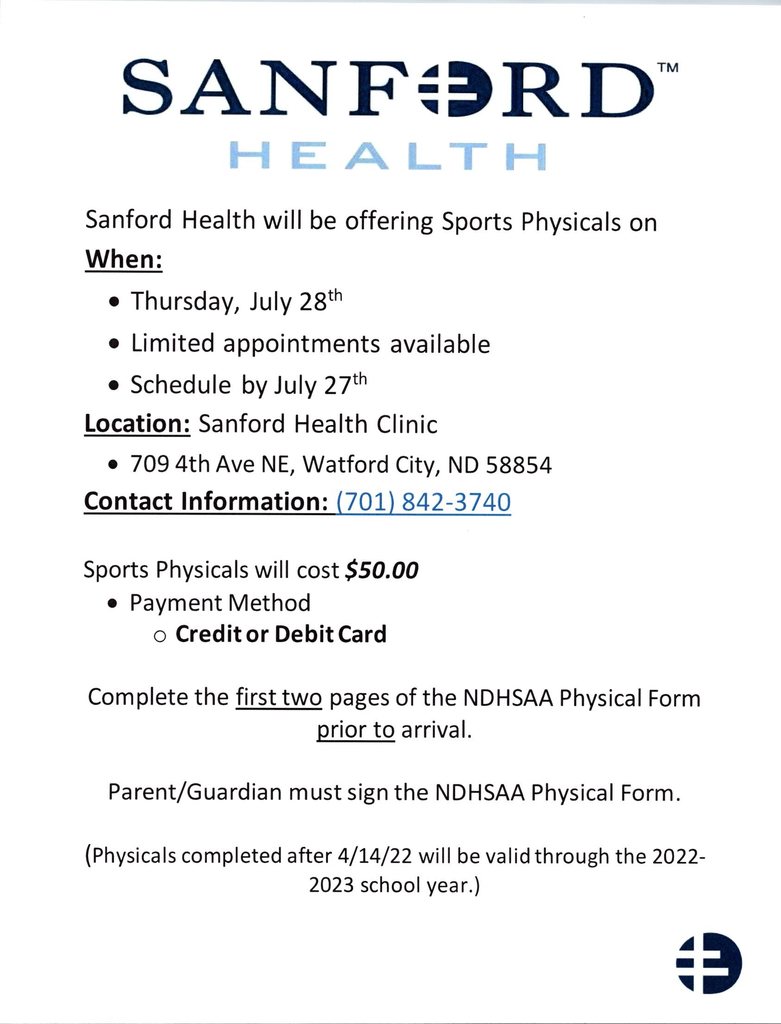 APS currently has a job opening for a high school custodian. The job would be Monday through Thursday, 2 p.m.- 10 p.m. and Fridays 8 a.m.-4 p.m. Please send the application and resume to superintendent
Leslie.Bieber@k12.nd.us
. Applications can be found under documents on our website.

The new gym will be closed until Aug 1st. You will still be able to utilized the old gym during this time. Sorry for the inconvenience.

APS currently has an opening for a teacher's aid position. Please fill out an application and email your resume to the superintendent
Leslie.Bieber@k12.nd.us
. Employment application can be found under documents on our website.

On August 3rd and 4th, parents are welcome to bring their children who are 3 years of age if they are concerned with the possibility of a disability - from our Special Education Department. Students do have to be 4 years of age by August 1st to attend preschool, however, we can offer special education services for those who qualify at age 3. Please contact the school for more information. This is also the dates for our Preschool & Kindergarten roundup.

Alexander Public School is searching for a Drama coach for the 2022-2023 school year. Please contact Leslie Bieber or Terrille Jacobson with any questions. Please send resume or application to
Leslie.Bieber@k12.nd.us

Alexander Public School Board has moved the June regular board meeting date to June 23, 2022 at 7:00pm.

Alexander Public School Fitness Center will be closed for public use on Monday, Tuesday, and Thursday from 6:00 - 7:30pm for June, July, and August for a student strength and conditioning program. All student athletes are welcome grades 7-12.
There are STEM camp opportunities this summer in the local area. Refer to the attached photo for more information. These are great opportunities to explore the world of STEM education.