GAME CHANGE: The Girls Basketball home game scheduled for Tuesday, December 7th, has been changed. The game is now ONLY a varsity game starting at 7 pm. The JV girls will be traveling to Trenton for a game. The game will start at 4:30 pm with the team TBD. There will be NO JH game.

This is our 3rd year of the Giving Tree here at Alexander School. The Giving Tree provides gifts of necessity and fun for our Comet families in need for Christmas. Your information will be kept confidential. Please provide as much information as possible. Include sizes, colors, etc. for shoes & clothing. Also, include some ideas for fun gifts-hobbies, toys, etc. Please return form to the office ASAP. All forms returned by Thursday will be displayed at the Christmas stroll.

Girls basketball Shootout at the Aud 12/3 & 12/4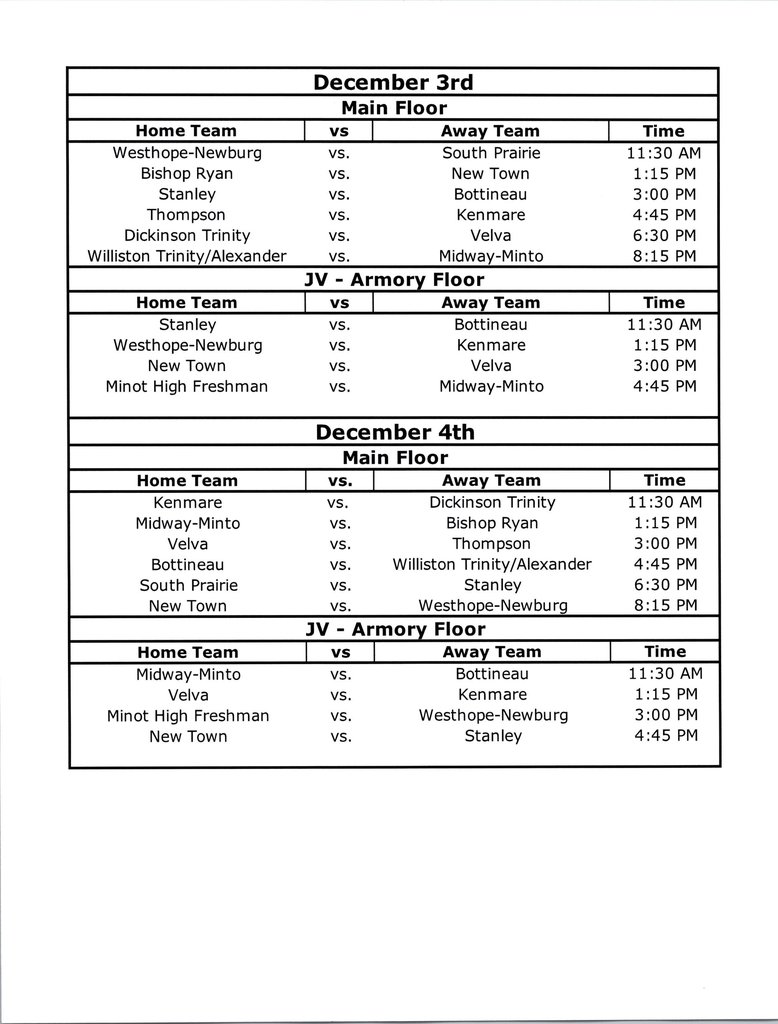 Just a reminder: Tomorrow is FAFSA night for Senior's and their parents. It will be held in Alexander School at 6:00 p.m.. There is a FAFSA guide on the school website to help you prepare for FAFSA night. If you have any questions, please contact Miss Hansel.

Join us for the first annual Christmas Stroll on December 2nd from 5-9 on Alexander Main Street! Come and visit with Santa, enjoy food, hot cocoa and lots of family fun! Thank you to the Alexander FTC Team and the Alexander Activities Club for putting this great activity together!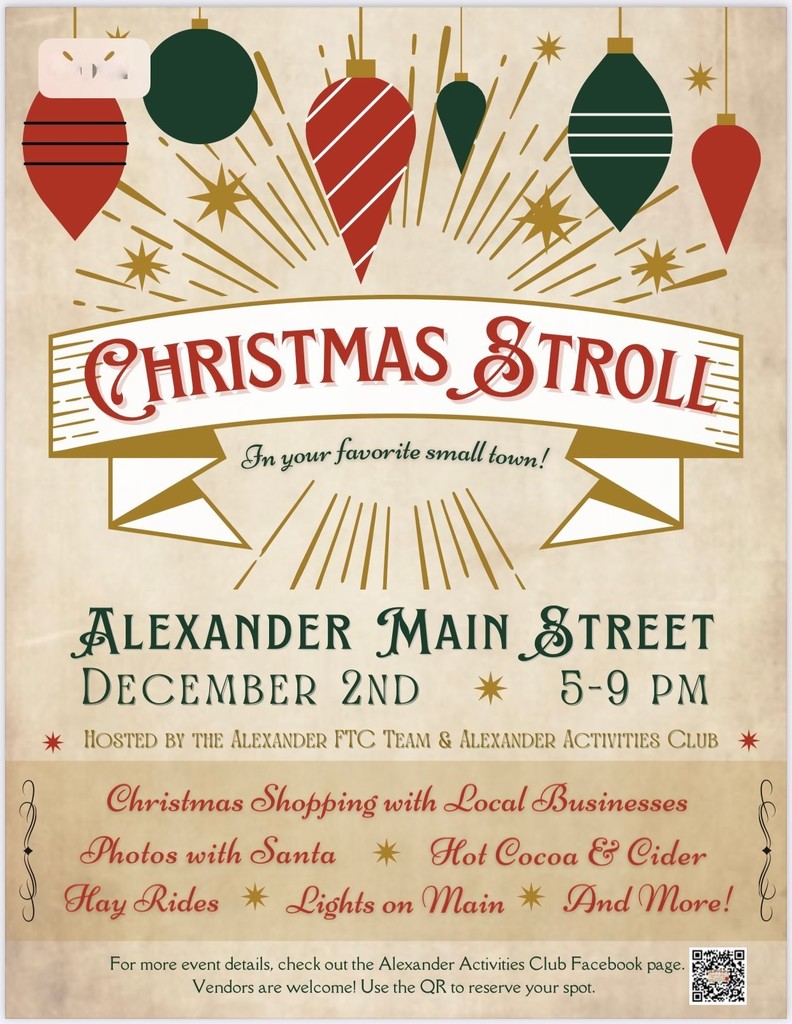 FAFSA night for Senior Parents has been rescheduled for November 30th at 6:00. If you have any questions, please contact Miss Hansel.


Elementary fundraiser items are in. If you pick up your student up please come in to the office to pick the items up. If your student is a bus rider the items will be sent home with them or an older sibling.
Due to some conflicts, the senior parent meeting scheduled for Tuesday, November 16th at 6:30 pm has been moved to 5:30 pm in the English room. For those who are unable to attend at that time, information to join digitally will be shared on Monday. We hope you can join us. If you have any questions feel free to contact Mrs. Triplett or Mrs. Faller.

There will be a FAFSA night for Senior's and their parents on Thursday November 18th at 6:00 at the Alexander School. There is a FAFSA guide on the school website to help you prepare for FAFSA night. If you have any questions, please contact Mrs. Faller or Miss Hansel.

It's time for some TURKEY BINGO! Join us for some BINGO fun on Tuesday, November 16th at 6:30 p.m. Please bring 1 canned food item per BINGO card!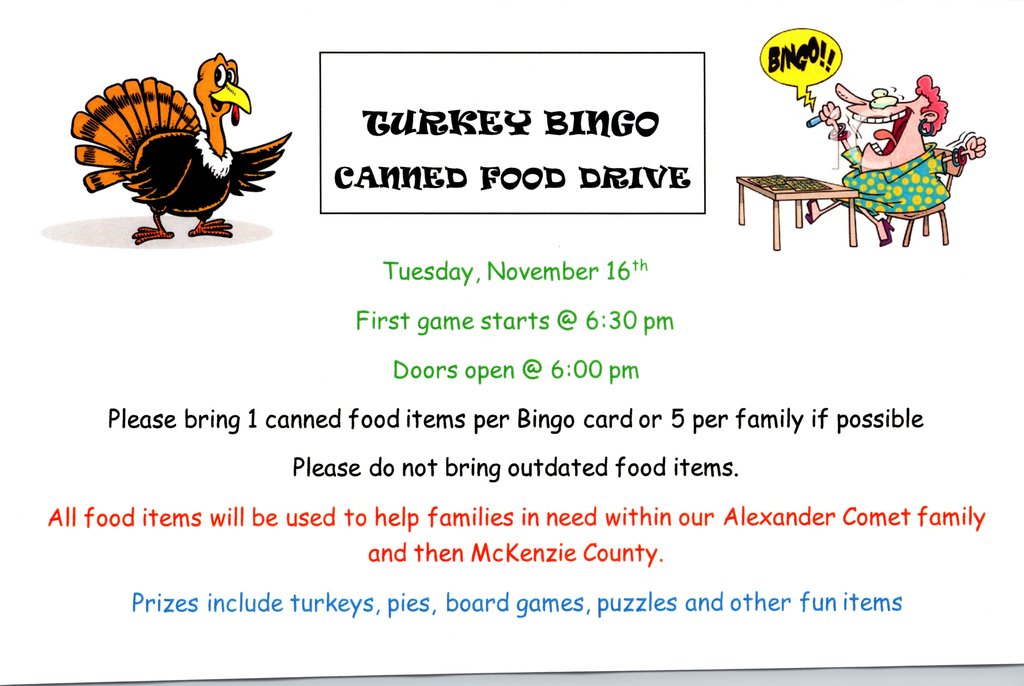 Varsity Volleyball: Just a reminder Per NDHSAA rules and regulations patrons are prohibited from live streaming tournament matches on Facebook.

Varsity Comet volleyball takes on Kenmare High School tonight at 6:00 p.m in the 1st round of the Region 8 Volleyball Tournament Let's Go Comets!!!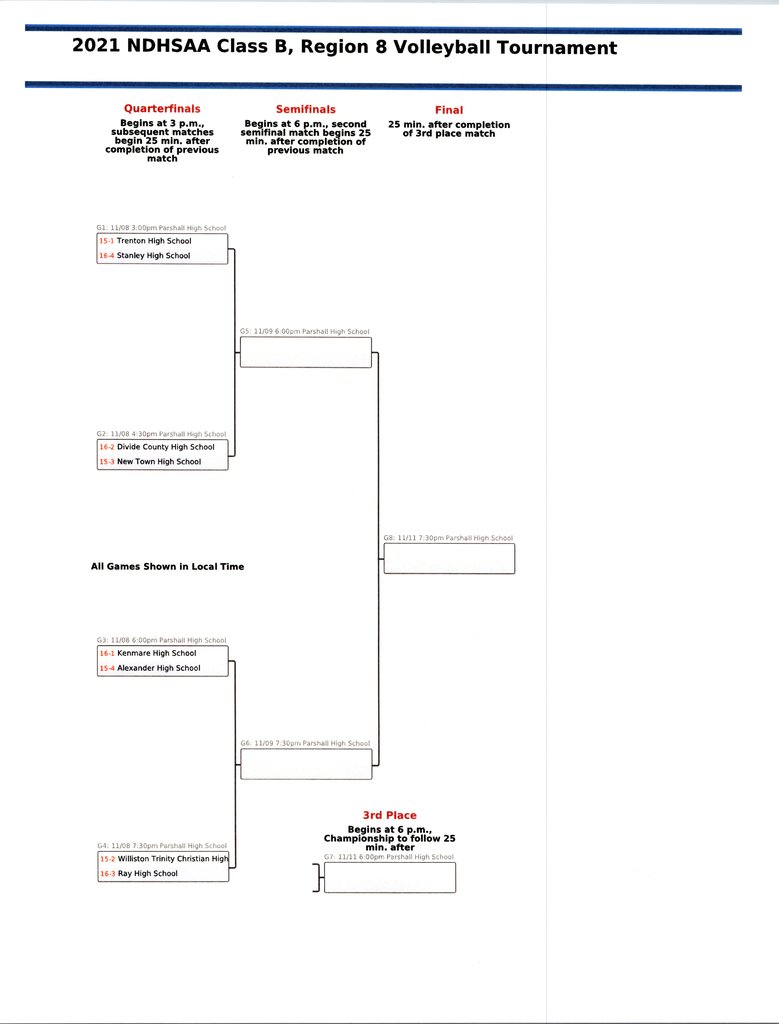 Alexander Public School Finance Committee meeting is tomorrow night, Friday, November 05 at 7:00pm at the school.


Just a reminder to all parents that there isn't Hi-5 or intervention tomorrow, Oct 29th. This coming week, Nov 1 - Nov 5th, is a 5 day school week. Have a safe weekend!
LAST CALL! The orders for the t-shirts supporting veterans will close tomorrow. If you are interested in ordering please contact the office. Shirts must be paid for up front.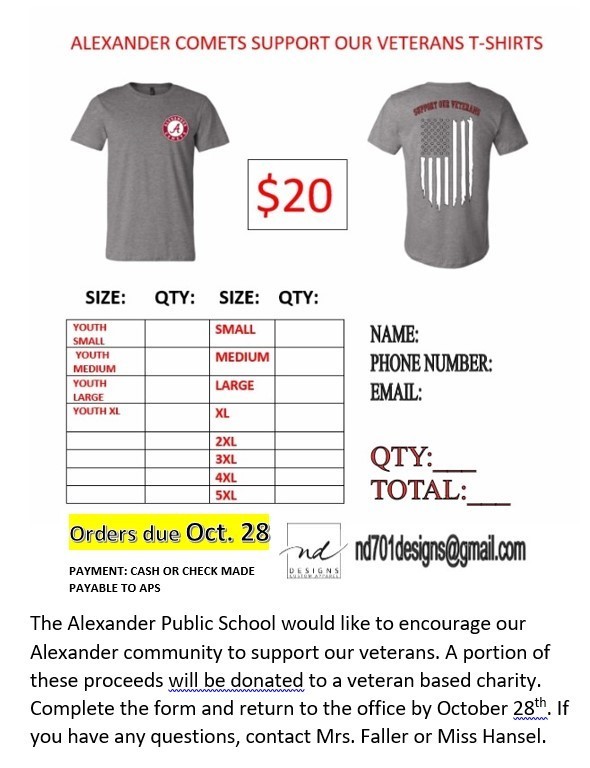 The Northwest Drug Task Force will be on hand tonight at 5:00 to present to parents information about drugs and paraphernalia. Stop in Mrs. Rizzo's room to chat with them.

The Alexander FFA is hosting Trunk or Treat this year! We would like to invite children to come and take advantage of this event in the school parking lot and invite community members to come and set up a trunk! Registration is not necessary however we would appreciate those hosting a trunk to call in advance. Hope to see you on Oct. 28th!