Girls basketball practice has been cancelled for tonight.

The Christmas Giving Tree is up in the entryway. If you are interested in participating please stop by and grab tags off the tree. Please return items to the front office by 12/19/22.
There will be a bake sale after school on Monday, December 5th.

Comet Christmas Concert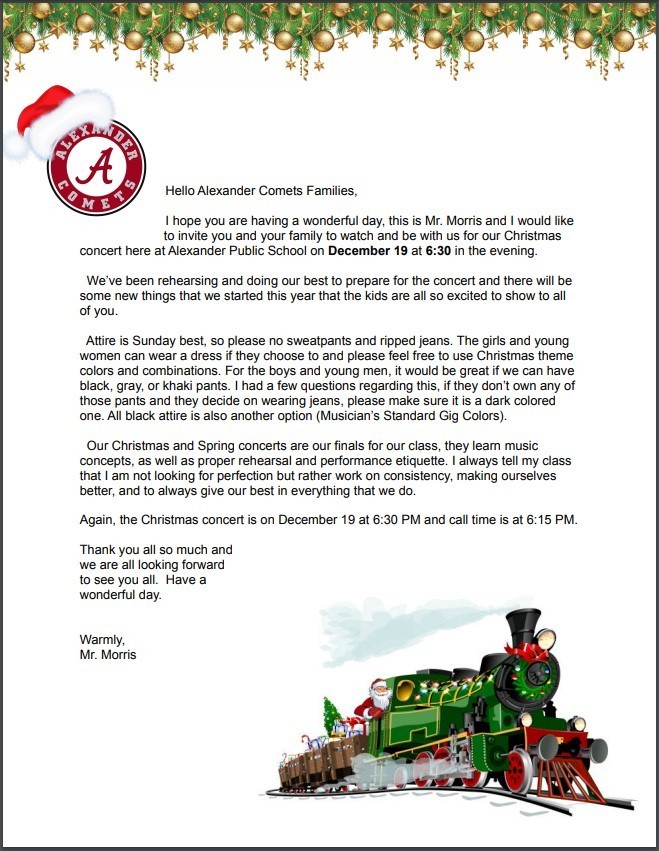 Due to weather delays fruit, meat, and cheese for the Junior Class fundraiser will be delivered tomorrow at 8 a.m. Please have your students pick up orders that do not belong to faculty members before noon. Please contact Mrs. Severson if you have any questions.

2022 Girls' Basketball Shootout at the AUD Dec 2nd and 3rd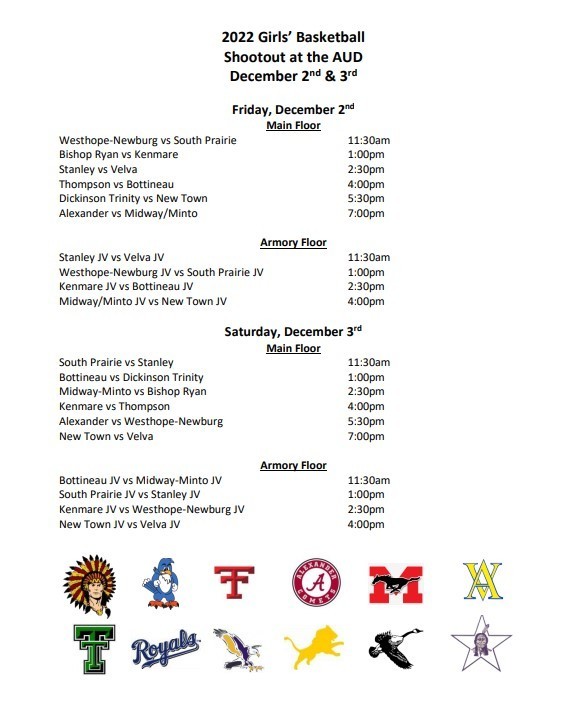 Hello Comet Families. We are in need of additional canned, boxed food, soups and dry pastas for our Christmas boxes to be complete. Donations can be dropped of at the FTC Booth tonight during the Christmas Stroll.

Attention Alexander Public School District Constituents! The Alexander School Board will be holding public forums on a school expansion project and upcoming special election. Please attend the public meetings to learn more about the proposed project and ask questions. The School Board wants your input! Public forum dates: Dec 5 at 7:00pm Dec 19 at 7:30pm January 12 at 7:00pm Location: Alexander School Library Further information concerning the upcoming election and expansion is available on the school website under MENU.

Hello Comet Families! The Boys' Basketball game on 12/12 has been moved to February7th. C/JV/V 4:30/5:30/7:00
Starting on December 5th there will be after school (4:00-5:00) homework help for grades 6-12. No transportation will be provided. If students are interested in attending they need to sign up in the office. If you have questions contact Mrs. Faller.

Hunter Safety Classes will start on February 17th. This will be for ages 10-18. Kids who are 10 must turn 11 by the 2023 calendar year. Please sign up in the office. The actual registration for the class will be online at a later date.

Hello Comet Families! We no longer are in need of generators! Thank you all for your help!

Hello Comet Parents! We are in need for generators for the Christmas Stroll on December 1st. If you are able to provide one, please contact the APS front office. Thank you for your help!

GBB @ Trenton Tomorrow 11-29 JH 6:00 V 7:00

Junior High and High School Boys basketball will begin this Monday, November 28th. Practice times for the week will be as follows: November 28th - 5:30 - 7:30 pm November 29th - 4:00 - 6:00 pm November 30th - 4:45 - 6:00 pm December 1st - 5:30 - 7:30 pm - Parent meeting at 7:30 pm December 2nd - TBA

On the week of November 28th students can wear hats for $10 all week. All funds collected will go to a school staff member who is having medical issues.

Hello Comet Families, our snow make up day is February 10th.


The Senior parent meeting has been postponed due to road conditions. We will reschedule and send out new information asap.