2022 District 15 Boy's Basketball Tournament Bracket Games will be held on February 25th, 26,th & 28th at New Town 4 Bears Event Center.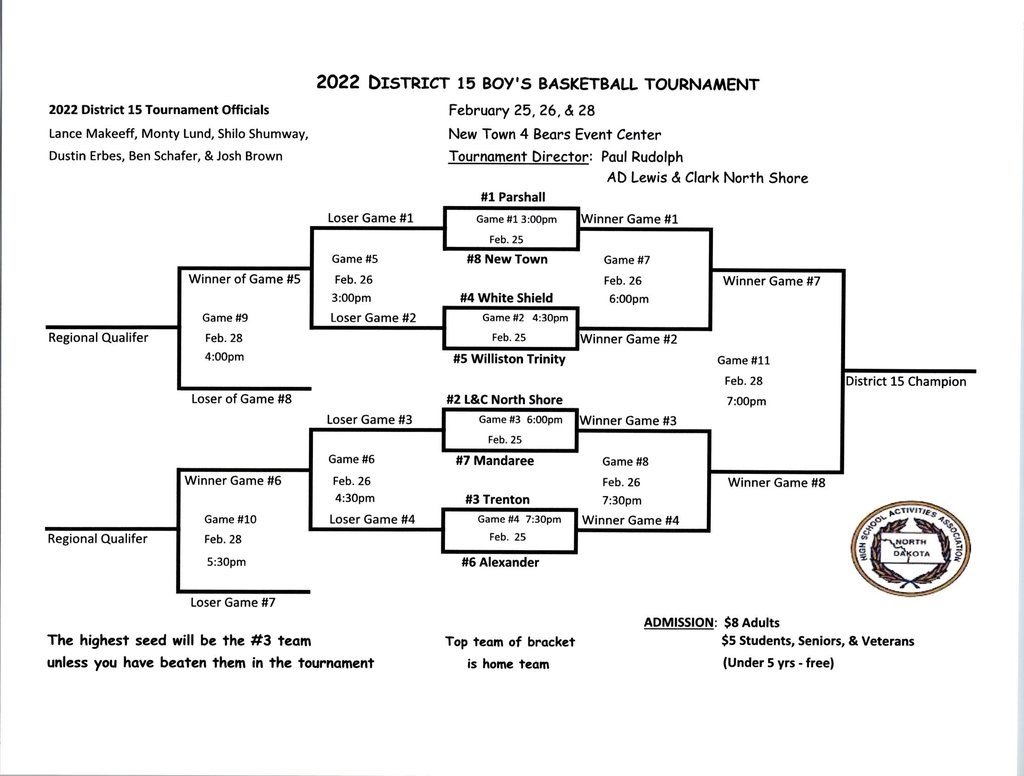 Happy Valentine's day everyone! Sorry for the late upload but here is the Comet Connections for this week!
https://5il.co/15n8v

Good morning Alexander families, on Wednesday February 23rd, Alexander will be hosting the McKenzie County Spelling Bee for grades 1 - 8. Preschool and Kindergarten will still attend school as a normal school day. Grades 1 - 5 will NOT have classes. Grades 6 - 8 will run as normal. A letter will be sent home today with those students who are participating in the Spelling Bee. If you have any questions, please contact Mr. Allard.

What's up parents and student, here is the Comet Connections for the week of 2/7/22-2/10/22.
https://5il.co/1562h
The Alexander basketball teams are extremely saddened to hear of the tragic passing of Watford City guard Joey Arnegard. During the basketball games on Januuary 31st, February 7th and 14th we will be holding a 50/50 raffle with the proceeds being donated to the Arnegard family. Please keep this family in your thoughts and prayers.
The Comet Fitness Center will be unavailable tonight due to home basketball games. Visiting teams will be using the locker rooms. Thank you for your understanding.


There will be NO coding club tomorrow, Friday January 28th.

JH Boys basketball games are at 5 pm and 6 pm tonight, January 25th. Full concessions will be available during both games.

The Varsity Boys Basketball game scheduled for tonight, January 25th, has been cancelled. Mandaree is unable to play tonight. An attempt will be made to reschedule. Due to the cancellation, the HS boys will be practicing tonight after school from 3:30 - 4:45 pm. The JH boys games scheduled for tonight at 5 and 6 pm against Williston ARE STILL being played.
Good evening, due to current weather conditions and dropping overnight temperatures Alexander Public School will have a two hour late start tomorrow, January 24th. School will start at 10:00 a.m. with bus pick up being two hours later than normal pickup time. Thank you for your understading. Drive safely in the morning.

Another week has gone by and another Comet Connections has come, enjoy the Comet Connections for the week of 1/24/22-1/27/22!
https://5il.co/14j0n

Sorry for all the confusion! There have been changes again to the girls' basketball schedule in Divide County Saturday 1/22. Jr High @ 3:00 JV @ 4:00 V @ 5:30

There will be only 1 jr high boys basketball game tomorrow 1/18 @ 5:00 p.m. This game will be 6 quarters long.

The boys' basketball games tonight have been postponed. The new date is still to be determined. The teams will practice as follow: Jr High Boys: 4:00 in the old gym V Boys: 3:30-4:30 in the new gym then they will be watching game film Girls' basketball practice remains the same at 4:30 in the new gym.

There will be a special board meeting tomorrow morning at 7:30 AM. The agenda item is the Alexander Education Association petition to negotiate.

https://5il.co/14at7
Hope you all are having an amazing week! Here is the Comet Connections for the week of 1/17/22-1/20/22. Enjoy!

There will be NO Hi - 5 or Intervention on Friday January 14th, 2022.

2022 Ray Super Saturday schedule **The boys' basketball game has been moved from 11:00 a.m to 12:30 p.m.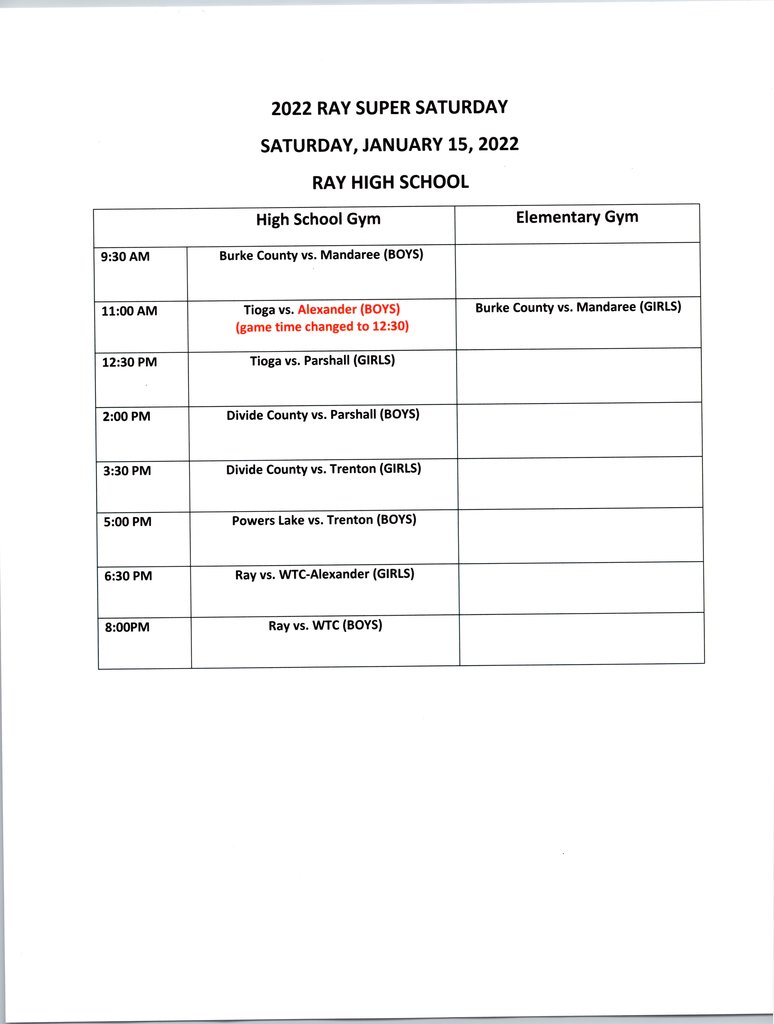 Jr high boys basketball practice for today 1/11 and tomorrow 1/12 has been canceled.